Welcome to 2018! And welcome to our 110% fact based prediction show for 2018. As you may expect from your two hosts, everything in this episode is 110% sure to become reality in the next twelve months.
And since 110% is not actually possible, our predictions might also be just a little bit off? But we have 365 days to bask in the glory of our predictions before we, as usual, are shot back down to earth.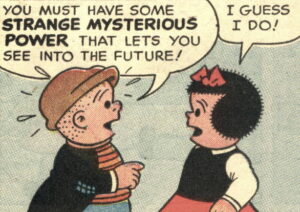 Podcast: Play in new window | Download (Duration: 48:14 — 33.4MB)
Subscribe: Apple Podcasts | Google Podcasts | Spotify | RSS | More
Dave

The year of cloud first and hybrid cloud

Many organisations will move from solely on prem to cloud or hybrid with new workloads seeking alternatives to their traditional on-prem.

Edge computing for IoT

With edge devices becoming more powerful and IoT workloads increasing (and bandwidth not getting cheaper at the same rate) we'll see more of the intelligence pushed further to the edge.

GDPR will fundamentally change the face of data governance, collection, anon, retention in big data

GDPR regulations start to arrive in the form of concrete plans being in place and many organisations will start to feel the governance pressure especially in their data lake(s).

Big Data Cybersecurity adoption significantly increased

A lot of work has gone into preparation, which I believe we'll start to see realised in 2018, not commonplace yet, but significantly increased deployments over 2017.

AI and ML will replace "Big Data" in general parlance

The phrase "big data" will become secondary and the focus will be on Artificial Intelligence and Machine Learning, regardless of the underlying big data platform.
Jhon

Cloud will become the de-facto choice for big data deployment.

The decoupled data storage and ephemeral compute make it possible for small entities to go for it AND makes it possible for small companies to create scalable solutions for the big guys.

In house development is too slow since good, reusable solutions become available cross industry.

Because of cloud, we'll see a shift where big data solutions are no longer built in-house, but "ready" solutions are licensed/purchased from start-up like orgs. (Self service Big Data as a Service made possible by cloud.) Hadoop becomes invisible, a bit like programing frameworks.

Data Science and Engineer jobs will change

Data Scientists domain knowledge becomes the main advantage and "math" becomes the base knowledge.
Data engineer will change a lot due to AI taking over a lot of the data prep work. May even disappear or go back to simple data ingest.

Still no good governance solution in 2018

Atlas will get better, with IBM behind it, but will still fail to offer the comprehensive governance and lineage solution businesses are looking for. And sadly, no other solution will fit the bill either.

Chat bots (in social media) are here to stay.
---
Please use the Contact Form on this blog or our twitter feed to send us your questions, or to suggest future episode topics you would like us to cover.