In this GDPR world, Data Governance and Data Lineage are, or should be, very much top of mind for anybody in the Big Data world. We reached out to Mandy Chessell, who has been very active in this area and were delighted when she accepted to do an interview with us.
In this first part, the focus is more on Mandy herself and we lay the groundwork for the second part that will go live in episode 109.
Podcast: Play in new window | Download (Duration: 41:50 — 29.0MB)
Subscribe: Apple Podcasts | Google Podcasts | Spotify | RSS | More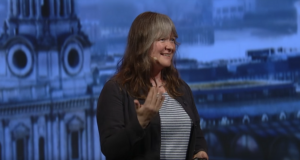 Mandy Chessell
Distinguished Engineer, Master Inventor, Fellow of Royal Academy of Engineering
https://www.linkedin.com/in/mandy-chessell-a4989722/
ODPi Blog post on Egeria: First Release of ODPi Egeria is Here
ODPi github projects:

Egeria – Open Metadata and Governance
Data-governance companion project
Please use the Contact Form on this blog or our twitter feed to send us your questions, or to suggest future episode topics you would like us to cover.