Today we are joined by Mark Phillips, product marketing manager and more interestingly, heavily involved with Ansible at Red Hat. Now, rather than making this episode specifically about Ansible, Mark shares his extensive expertise on the subjects of orchestration, config management and automation.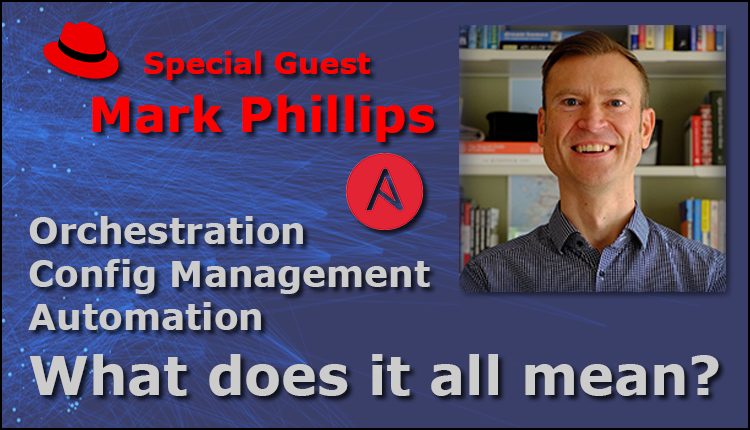 Podcast: Play in new window | Download (Duration: 43:29 — 30.1MB)
Subscribe: Apple Podcasts | Google Podcasts | Spotify | RSS | More
Mark shares his 25 years of experience on various questions covering the usual "what, why and who". A bit of history is included and of course the difference in approach for cloud versus on-premise also come up.
Specific terminology is explained and we cover the usual excuses for not using things like config management. For those that are still on the fence the information shared by Mark should give you a firm grasp of the concepts and deployment methods and help you get started.
During the interview, Mark mentioned a number of blogs and other online resources:
Many thanks to Mark for spending time with us and sharing his extensive knowledge and experience with our audience!
Since the interview did run a bit long, this will be a two-parter and we will probably follow this up with a more in depth discussion on Ansible. Let us know of you have any questions you want to see answered?
Title image background Designed by starline / Freepik
---
Please use the Contact Form on this blog or our twitter feed to send us your questions, or to suggest future episode topics you would like us to cover.