In the past week, trouble at Cloudera really stood out and in the context of similar problems at MapR and (somewhat less related to Big Data) Pivotal, we are devoting the entire episode to this.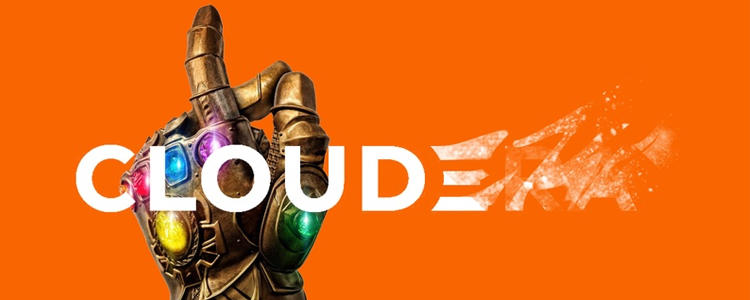 Podcast: Play in new window | Download (Duration: 37:52 — 26.3MB)
Subscribe: Apple Podcasts | Google Podcasts | Spotify | RSS | More
As this is a Roaring News Episode, we will discuss this story based on a number of articles we found.
Cloudera has a "bad" day…

The combination of some bad quarterly results and both CEO Tom Reilly and chief strategy officer and co-founder Mike Olson leaving the company have had a dramatic effect on the stock price.
Now this could be an isolated incident, quickly forgotten, but in the light of similar issues at MapR (which is not a public company) and Pivotal, there does seem to be something more fundamental happening in these Open Source, venture capital fueled companies.
Looking at job listings over the years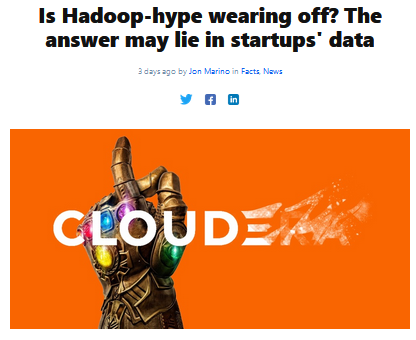 The second article we discuss (from which we also took the image above because Dave really liked it) has some interesting statistics on job listings by Cloudera & Hortonworks.
Even though the content of the article itself was not that interesting, we try to divine some conclusions studying the data from the graphs in this article.
Hadoop is dead (again)?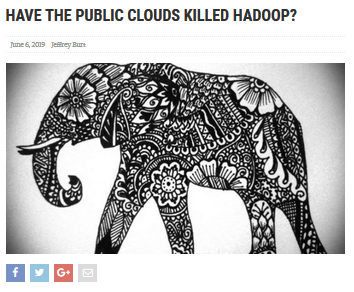 From there, we go to this article on TheNextPlatform where one of the possible reasons of this phenomenon is placed at the feet of the big public clouds.
It's hard to deny that the rise of the Amazon, Azure and Google clouds are, at least partially, responsible for the fragmenting of the "Hadoop ecosphere" and the traditional "pure play" companies will need to adapt and conform to the new reality. (Unless they have a really unexpected trick up their sleeves…)
Our Thoughts
In the end, time will tell how this will evolve. Even though there does seem to be a kind of rationalization going on, the big data layers still have time to re-adjust and evolve to overcome the challenges they are facing.
The question is whether or not these companies have retained their open source flexibility DNA while transforming themselves into enterprise businesses and how successful they will be in communicating their roles and ambitions to their customers and the public in general.
And no, we don't think Hadoop is dead (again), or ever will be: "Hadoop" (the big data environment, not the specific Apache project) and the commercial use-cases it engendered are here to stay, but in ever changing shapes and forms.
---
Please use the Contact Form on this blog or our twitter feed to send us your questions, or to suggest future episode topics you would like us to cover.